What's for dinner tonight?
| | | |
| --- | --- | --- |
| Risotto | Pizza | Pasta Bolognese |
| Shakshuka | Pasta with sun-dried tomatoes | Thin pancakes |
| Carbonara | Meat & mushrooms with sour cream | |
Risotto
Ingredients:
Onions
Carrots
Garlic
Mushrooms (optional)
Any vegetables left in your fridge
Starchy rice
Chicken thighs
Chicken stock (cubes are alright)
Parmesan cheese
Olive oil
Butter
White wine (optional)
Step 1
Get a pan with tall sides. Put it on high heat, put some olive oil and lay your chicken thighs. Pull them out when they are brown. No need to cook them through, they will cook in the rice later.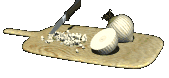 Step 2
Chop the veggies, put them in the pan, get them nice and brown.
Step 3
Put the unwashed rice to vegetables, toast it a bit (but toasting your rice for too long will make the risotto less creamy).
Step 4
Deglaze with white wine if you have it. Pour enough chicken stock to cover the rice and let it simmer by itself. Add your aromatics (pepper, basil, thyme).
Step 5
Cut up chicken thighs into small pieces, put it back in the pan, stir the rice from time to time. If rice is starting to go dry, pour more stock.
Step 6
When the grains are still a litle crunchy, turn off the heat. By the time you get to eat, the rice will be perfect. Put some chopped garlic.
Step 7
Put the butter and grated cheese in. Taste for salt, you might need to add some if stock and cheese weren't salty enough.